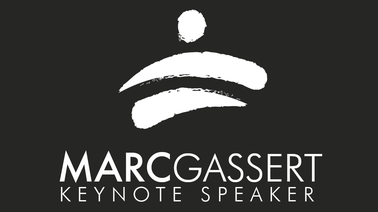 Marc Gassert
Vortragsthemen:
Als Vortragsredner bietet Marc Gassert den Wissenstransfer zwischen fernöstlicher und westlicher Kultur.
Disziplin: Nicht das Anfangen wird belohnt, sondern das Durchhalten
Balance: Damit alles im Gleichgewicht bleibt, muss einiges verändert werden
Mut - Wie wir ins tun kommen!
Video ansehen
Kurzvita

Marc Gassert verbrachte einen Großteil seines Lebens in unterschiedlichen Kulturen auf verschiedenen Kontinenten und erlernte bei namhaften Großmeistern die asiatische Kampfkunst. Heute besitzt er Meistergrade (schwarze Gürtel) in Karate, Taekwondo und Shaolin Kung Fu. In München studierte er Kommunikationswissenschaft und Interkulturelle Kommunikation, in Tokio Japanologie.
Themenkategorien
Gesundheit, Fitness, Resilienz, Glück
Testimonials
Wilhelm Hakim IFG Internationale Fortbildung GmbH "Mit seinem jugendlichen Auftreten, seinem großen Qi (Energie) und seiner auf deranderen Seite sehr tiefgründigen Art der Rhetorik zieht er das Publikum in seinen Bann, wie es nur wenige können. Auch bei 700 im Raum anwesenden Personen fühlte sich jeder persönlich angesprochen. Als Keynote Speaker kann ich ihn wärmstens empfehlen und habe für künftige Arbeitgeber für Veranstaltungen noch einen Rat: Setzten Sie Herrn Gassert an das Ende des Events - die nachfolgenden Sprecher haben es sonst sehr schwer."
Prof. Dr. Stephan Korom International Medical Leader - Global Medical Affairs - ROCHE "Marc Gassert did a great job in a small and very scientific/process oriented team after a long day of technical and strategic discussion to get everybody again centered and re-charged. Using a unique mix of lecture and physical exercise, people were being drawn in and maximally engaged. It was a great evening, and I can highly recommend Marc!"
Jürgen Reichle, Geschäftsführung Pepsico "Herr Gassert - das war inspirierend, lehrreich und sehr sehr unterhaltsam - allerherzlichsten Dank!"